Spiral Wound Gasket is a sealing element with or without outer guide rings/ inner rings . The sealing element consist of spirally wound strip filled with different types of fillers like Graphite/ PTFE/Ceramic etc., depending upon the nature and type of application_ The picture below illustrates a typical arrangement of a spiral wound gasket. INMARCO manufactures different types of gaskets in different combinations and sites of exotic materials like carbon steel, stainless steel, nickel and alloy steels. These gaskets are manufactured meeting the requirements of international specification such as ASME, DIN, llS etc.

Description:
SPG (G) — Wide choice of material for metal strip and filler (Ceramic / Flexible Graphite / PTFE /Verdicarb (Mica Graphite). Suitable for high pressures and temperatures application. Recommended for flanges with tongue and groove.
SPG (IR) — Consist of Solid metal inner ring. Suitable for high pressures and temperatures. Recommended for male and female flanges.
SPG (OR) — Solid metal outer ring used as a centering device and compression stop. Recommended for Raised faced and flat face flanges.
SPG (10R)— Consist of metal inner and outer rings. Suitable for high pressures and temperatures applications. Prevents turbulence and erosion damage to flange. Prevents damage for gasket bore and inner windings. Acts as a corrosion barrier. Recommended for raised face or flat face flanges.
Spiral Wound Gasket
OUTER AND INNER FUND STANDARD MATERIALS
Titanium, Inconel 600, Inconel 625
Carbon Steel,Plated with Chrome, Passivation or Painted
Stainless Steel 304/304L/317L/316/316L/321/347/410
Monel,Nickel,HASTELLOY®B,HASTELLOY® C276
STANDARD TOLERANCE FOR WINDINGS
24.0 to 36.0″

+0.6mn -0

+0-1.0

36.0 to 60.0″

+0.6mm -0

+0-1.0

60.0″ and above

+0.6mm -0

.+0-1.0

Gasket Diameter

OD(mm)

ID(mm)

Up to 1.0″

+0.2mm -0

+0-0.4

1.0 to 24.0″

+0.2mm -0

+0-0.4
GASKET THICKNESS
4.5 mm

3.2-3.4 mm

3.0-3.3 mm

6.4 mm

4.6-4.9 mm

4.0-4.2 mm

7.2 mm

5.0-5.5 mm

5.0-5.5 mm

Norminal Tickness

Compressed Thickness

Inner/ Outer Ring Thickness

3.2 mm

2.3-2.5 mm

2.0-2.2 mm
TEMPERATURE LIMITS FOR FILLER MATERIAL
PTFE

-240

260

Verdicarb(Mica Graphite)

-212

175

Material

Min.° C

Max.° C

Ceramc

-212

1090

Flexible Graphite

-212

510
TEMPERATURE LIMITS FOR COMMON METALS
317L Stainless Steel
-100
+760
317L
321 Stainless Steel
-195
+760
321
347 Stainless Steel
-195
+925
347
Carbon Steel
-40
+540
CRS
20Cb-3 (Alloy 20)
-185
+760
A-20
HASTELLOY® B2
-185
+1090
HAST B
HASTELLOY® C276
-185
+1090
HAST C
INCOLOY ® 800
-100
+870
IN 800
INCOLOY ® 825
-100
+870
IN 825
INCOLOY ® 600
-100
+1090
INC 600
INCOLOY ® 625
-100
+1090
INC 625
INCOLNEL ® X750
-100
+1090
INX
MOCKEL 400
-130
+820
MON
NICKEL 200
-195
+760
NI
TITANIUM
-195
+1090
TI
Material
Min.° C
Max.° C
Appreviation
304 Stainless Steel
–195
+760
304
316L Stainless Steel
-100
+760
316L
Ordering Information:
Casket Thickness
3.2mm / 4.5mm / 6.4mm / 7.2mm
Inner and Outer Ring
Thickness (Compressed)
2.3mm / 3.2mm / 4.6mm / 5.0mm
Class
1508 / 300/ / 6001 etc.
Size
1.0′ 2.0′ 3.0′- 24.0′
Standard
ASME B16.20 / ASME B16.47 Series A / 8
Example
INMARCO 55316 Spiral Wound Expanded Graphite Filled Gasket with 55 326 Inner Ring and CS Outer
Ring Size:
2.0′ Class 150* Casket Thick 4.5mm Ring Thick 1.2mm as per ASME 816.20
Gasket Material
Stainless Steel (SS) 304 1316 1316 etc
Filler
Flexible Graphite / Ceramic / PTFE
Inner and Outer Ring
Carbon Steel (CS) SS 104 / 55316 / 553161
Semi Metallic Gasket
Material (Inner and Outer Ring) : SS304 /SS316 / SS316L /SS321 etc Size: 1/2″ to 24.0′ Classes: 150# to 2500# larger sites can be produred to order. other Spiral Wound gasket Material & sizes available ipon request
Availability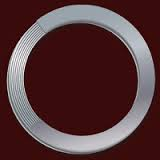 Camprofile gaskets consists of a metal core (Generally Stainless Steel ) with concentric grooves on either side with sealing materials. The sealing layers can be Graphite, PTFE depends on application Camprofile can be used without sealing layers to provide an excellent seal but there is a risk of flange surface damage
Due to wide seating stress range of the camprofile gasket makes it :
∎ Highly suitable for varying temperature and pressures
∎ less sensitive to assembly faults (inaccurate bolt tensioning).
∎ Suitable for light and heavily constructed flanges.
∎ Depending on layer material camprofile gaskets are resistant to temperatures up to 1000°C.
∎ Resistant to media pressures up to 250 Bar.
Benefits:
∎ When assembled the layer thickness of the waling material is extremely small (0.5mm) thus reducing leaks reject fates and environment pollution.
∎ The gasket will not damage the flange surface and can be easily removed.
∎ Reduces maintenance costs.
∎ Emergency waling of damaged flanges by using I mm thick sealing layers until the flange can be reworked.
∎ Excellent performance on fluctuating temperature. and pressures.
∎ Direct replacement for existing gaskets. No special flange finish is necessary.
∎ Eco friendly.
Comprofile Gasket for Flange Joints:
Heat Exchanger Gasket
Heat Exchanger Gasket is a term that has been given to gasket used in heat exchangers. The structure of the gasket or its type varies according to the operating conditions of the exchangers. The heat exchanger gaskets come in a broad specter of types including single or double jacketed, corrugated, plain metal, soft and many other. A large selection of different materials allows heat exchangers to operate at temperatures beyond the capabilities of most soft gasket materials.
Advantages
∎ Available in wide range of materials, since they are all custom made
∎ Metal jacketed heat exchangers
∎ The Metal jacket provides mechanic strength to contain the filler and improves chemical resistance
∎ Unique construction provides stability and ensures trouble-free handling and installation
Gaskets with welded bars have eliminated greatest problems of conventional gaskets, which develop cracks in the radius Metal of alloys are commercially available in sheets or rolls of 1000 mm width
The primary and secondary seals are continuous all around the gasket. The gasket has an excellent salability, reducing leaks to the environment. The bars which seal between the heat exchanger passages are plasma or TIG welded with spot welds at each end. These welds are soft and small to avoid areas of increased resistance to seating.
MATERIAL FOR METALLIC JACKET

Stainless Steel

AISI 316

1.4401

Stainless Steel

AISI321

1.4541

Stainless Steel

AISI 316 Ti

1.4571

Monel(NiCu30Fe)

B172,alloy 400

2.4360

Copper

Copper

2.0090

Brass

Brass Ms 63

2.0321

Aluminium

Aluminium 99.5

3.0255

Tatanium

B348 Gr.1

3.7025

Material

ASTM

DIN Materia No.

Low Carbon Steel

Soft Iron

1.1003

Stainless Steel

AISI 304

1.4301
Filler Flexible Graphite, Ceramic, calandered sealing materials.
Sizes: Gasket Thick — 3.2mm
Gasket Width — 10, 13 and 16mm
Bar Width —8. 10 and 1 3.0mm.
GASKET ORDERING EXAMPLE
Gasket style (Refer to TYPE 1 to 2 5),Shape drawing
Dimensions: OD (Outer Dia.), ID (Inner Dia.),
Materials : Metel or Metal Filler
Gasket thickness
Bar Width
Radius and distance between bars or center line of bars
Other products in the category